"I promise myself that I will enjoy every minute of the day that is given me to live."
―
Thích Nhất Hạnh

Welcome!

Through Meditation, Life Coaching, Mindfulness Workshops and using Energy Tapping Techniques, my intention is to help others create a more joyful, relaxed, meaningful life and to fulfil even more of their vast potential.
I am a firm believer in meditation as the key to a stressfree, healthy and meaningful life. My weekly meditation classes have been running since early 2006. While leading meditations, my visualisations are always inspired moment by moment during the class. I have included some of these visualisations on my "Guided Meditations" CD which was recorded in 2006 and also my more recent "Guided Meditations 2" CD which was recorded in 2012. These CDs are available immediately to purchase. For further details, see below.
After obtaining my B.A. (hons) degree in psychology and philosophy at Dublin City University, in 2003 I qualified as a Life & Business Coach. Following my official certification in 2005, I have led "Heal Your Life" Workshops (based on the philosophy of Louise Hay) on a regular basis in various locations in Dublin and surrounding areas.
The work I do here brings me great joy, and it is my sincere wish to share this wisdom with as many people as possible so that they may also share in the joy that is life.


ABOUT MINDFULNESS

What do you think about when you wake up first thing in the morning? Your shower? When you are in the shower, what do you think about? Getting dressed? What do you think about when you are getting dress? Your breakfast? You can see where this is going!
What about if when you are in your bed, you feel the softness of the mattress and bedclothes. What about if when you are in the shower, you notice the smell of the shower gel and hear the water running. What about when eating your breakfast, you savour every morsel.
This is what being mindful is all about.
Mindfulness is essentially being completely aware of everything in the present moment, instead of focusing in on the continuous thoughts in our head. Every moment is accepted for what it is. Being mindful eliminates worry and stress and hugely increases our enjoyment of life.
It is natural for us to feel happy. Worry, stress and depression result from being immersed in negative thinking. As it is not possible to think two thoughts at the same time, if we are focusing on what we see, hear, smell, taste and feel, we cannot at the same time be caught up in thoughts that create negative feelings in our body and attract even more negative thoughts.
We are not our thoughts. We were born living in the present moment and worry free. We think our thoughts and therefore we have the power to change them. The more we practice mindfulness, the easier and more natural it will become for us.
For me, mindfulness evolved from my practice of meditation. The more I meditated - practising focusing in on one (relaxing) thing only - the more I noticed when thoughts were taking over the peace and calm that the meditation brought to my daily life. Those thoughts felt intrusive and I could instantly feel the (usually negative) emotion that those thoughts elicited in my body. I realised that allowing those thoughts to pass, rather than engaging in them, resulted in me having more energy, enjoyment and zest for life and feeling more relaxed in general. I also realised that things have a way of working out when we don't interfere with our thoughts. Life simply flows when we allow it and opportunities seem to keep opening up naturally and easily.

MEDITATION CDs
(now available to buy in Nature's Gift Limited, The Pavilions SC, Swords, Co. Dublin).

Recorded, mixed and mastered at Fastlane Studios, Dublin. Written and spoken by Anita Stapleton-Mirolo. This CD was recorded, produced and duplicated in Ireland.

€12 plus P&P. Payment can be made by Paypal, cheque, postal order or bank transfer.

Testimonials:
"Your CD took me on an amazing journey from the start of my day, dissolving tension from head to toe and creating a wonderful feeling of awareness and relaxation through to the end of the day with quietening my mind and drifting into restful sleep. I cannot recommend it enough. It made me feel safe in allowing life to take care of me. I felt so light through the day, like I was on a cloud. Beautiful."

-
Ciara, Balbriggan, Co. Dublin

"This is a thoroughly enjoyable and effective CD which does "exactly as it says on the tin". I highly recommend it to those seeking the simpler pleasures in life. What's great about the CD is that it's easy to adapt into a busy lifestyle. It always give me a nice sense of calm, balance and confidence once done - Thank you and well done, Anita". Catriona, Clontarf.

GUIDED MEDITATIONS; VISUALISATIONS DESIGNED TO RELAX, REJUVENATE & INSPIRE (Recorded 2006)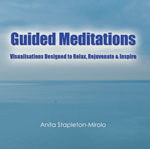 Tracks include:
A Short Meditation - To gently relax you in a short space of time.
The Waterfall - Re-energise, let go, clear away negativity and stay with the positive.
On top of the World - Enjoy the sense of space nd limitless potential.
Recorded at Fastlane Studios, Dublin. Written and spoken by Anita Stapleton-Mirolo. Music by Stephen Brett. Copyright 2007. This CD was recorded, produced and duplicated in Ireland.

€12 plus P&P. Payment can be made by Paypal, cheque, postal order or bank transfer.
Testimonials
"The short meditation is great for times when I'm a rush, but really want to do a meditation. It's a great way to start the day and only takes 5 minutes. The journeys of the meditations are great, I always feel great after them. The waterfall is my personal favourite for bedtime. When's your next CD coming out? Can't wait" - Bill Fogarty, Ringsend, Dublin 4.

"I am really enjoying your CD which, at the moment, I am using to clear the tension and sometimes frustration that builds up after a day at the office. So, as soon as I get home I light a candle and burn some oils then listen to one of your tracks. I finish up feeling like cotton wool mixed with marshmallows! Just oozing calm and quiet. It gives me a second wind for the day." - L.S., Glasnevin.

If you would like further information and/or would like to purchase a CD, please contact me by email, telephone or text.


info@asm-healing.com
086 8037554